Dyed Film: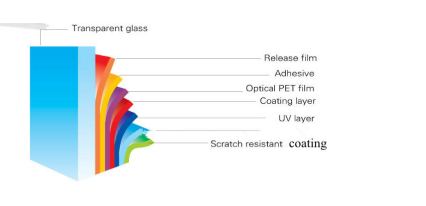 Ø Key Features:
ALILULA window film are upgrade films that use clear optical and magnetron sputtering technology to
reduce a range of problems such as glazing, heat and glare reduction, thermal insulation, UV filtration
and corrosion.

Ø Unique Advantage:
1,Control more than 99% harmful UV rays, Isolate 90% of heat source, IR fom sun;
2,Isolate 99% of UV rays that cause fading the trims and interior car accessories;
3,High Transparency by 73% allowing light to pass through;
4,Prevent glare from the sun, which given a sense of comfort while driving;
5,Three Brand for you to choose: Carty-series, MG-series, and Van Gogh-series;


Technology : Metal Coating (hard coating) Processing;
Raw Material: Optical PET as raw mateial;
Components: Senior Metal as aluminium and IR Chemical Agent.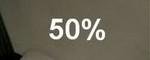 (DIFFERENT!)

ØHow Window Film Works?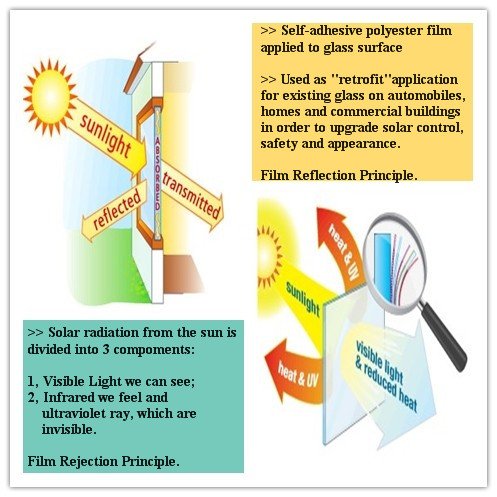 Ø Physical Data:
Visible Light Transmission:

1%--35%

Visible Light Reflection:

Int: 5.2-7.8/Ext:7.4-10.4

Infrared Rejection:

10%---90%

UV Rejection:

98%--99%

Thickness Available:

1.5mil, 2mil, 4mil, 8mil

Width Available:

50cm, 75cm, 90cm, 100cm, 1.52m

Length Available:

1m, 3m, 6m, 12m, 30m, 60m ,300m,600m,1200m

Packing (rolls/ctn):

Big roll: each one with single box packing;

small roll: each one with cubic box, then 50-120 rolls in one carton.

(Black,Green,Blue, Olive)
ØInstallation Instructions:


1. Clean the glass thoroughly with detergent and water .leave no spots or dirty on it .

2. Cut your Solar Film (catch release film )to the shape of and larger size than the glass (each side extruding some or 1/4)

3. At one corner of your solar film ,apply a small piece of adhesive tape to each side ,pulling apart ,your solar film
can be easily separated from the release film .Spray water to the adhesive side of your tint solar film whilst the film
are being separated.

4. Squeeze out the water in between your solar film and the glass with squeegee.